Zisson new platform
What is new for agents?
Overview
No major changes for agents general overview

Mark the new resource center in the top right corner where you can find:
- Onboarding guides
- Operational Statuspage
- FAQ articles
---
Location selection
---
---
Location is no longer mandatory to pick when logging in to Zisson Interact.
Top left (Highlight in red) you can pick a location/phone to answer queue calls.
PS! This Choice will be remembered – if no one takes your location while you are offline, the selection is remembered.
---
---
You can easily see if a location is take by someone else, by beeing in bold and has a name beside the location name. (Zisson Admin is using the top location in this case)
---
---
You can also change location without logging off Zisson Interact, just press the «logg on queue» button and pick from the dropdown.
PS! You can't change location of an ongoing call from this selection.
---
---
You can also do the same selctions by pressing your name in the top right corner.
Log on queue- profiles
You can now log on to multiple queueprofiles

If same queue are in multiple queueprofiles, the best skilled profile is used.
---
New «Call scenarios»
New calltab

Mute/unmute

Hold/Pick up call

Swap between caller and transfer callee

Merge call with transfer callee (3 party call)

Transfer to queue with consultation
---
---
---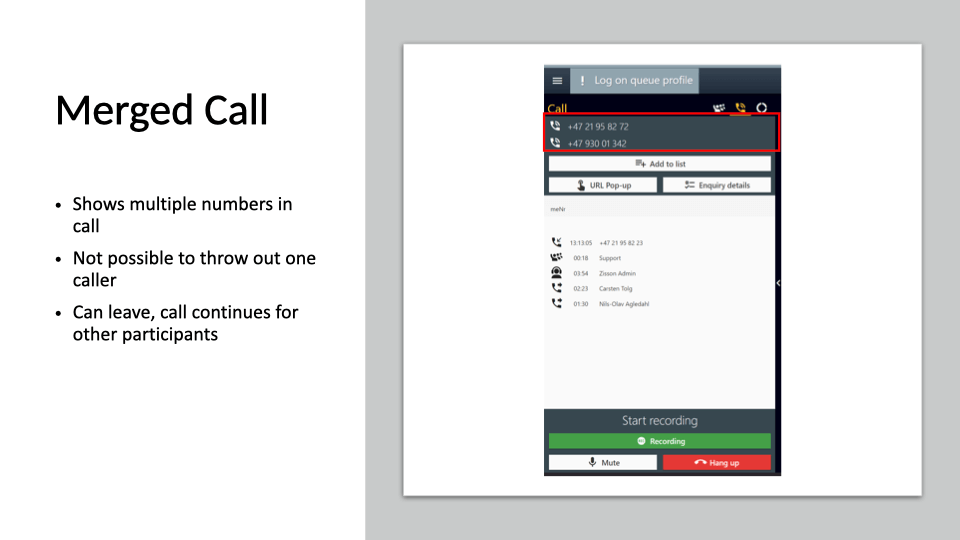 ---
---